Designing

a

B2B

SRM

to

improve

the

process

of

maintaining

supplier

relationships
Waasla is a Supplier Relationships Manager that helps SMBs maintain better relationships with their suppliers. We took a different approach than most SRMs on the market, focusing on doing basic tasks well rather than building as many features as possible.
I've designed Waasla as an external contractor, working with a Business Analyst, Product Manager, and the Engineering team on the client side. This was a three months remote engagement.
This is only a brief version of the project. Reach out if you'd like to know the full story.
Waasla wanted to launch a new Supplier Relationships Manager (SRM) aimed at small and medium businesses trying to simplify their procurement process and nurture relationships with their suppliers.
As soon as I joined I started interviewing stakeholders to understand their pain points, needs, and which gaps the product could fill in the market. Since I didn't understand the industry well enough, I spent time trying to understand the proposition of these SRMs. I booked demos for competitor products and created a market landscape analysis together with the client, on which they plotted their desired placement.
It quickly became clear that our product had to be designed not with one, but with two audiences in mind:
procurement/supplier managers (we'll call them managers from here on) — the people who need to manage campaigns, tasks, do reporting, and track the performance of their suppliers
suppliers – they need easy ways to onboard and communicate with the companies they supply goods and services to.
As with any other MVP, the roadmap is often created off the back of necessary trade-offs. With the budget and timing being tight, we've decided to focus on managers initially, since they were going to be the main stakeholders. While this didn't mean we completely ignored the supplier needs, the MVP did lack some basic functionality for them.
During interviews with managers in the Middle East and Europe I uncovered several opportunities. Two main cohorts stood out to me:
people using complex CRMs — they were frustrated with the clunky software requiring extensive training
people using third-party tools (Excel, AirTable, WhatsApp, email) – they struggled to keep an overview of each supplier with everything being so scattered.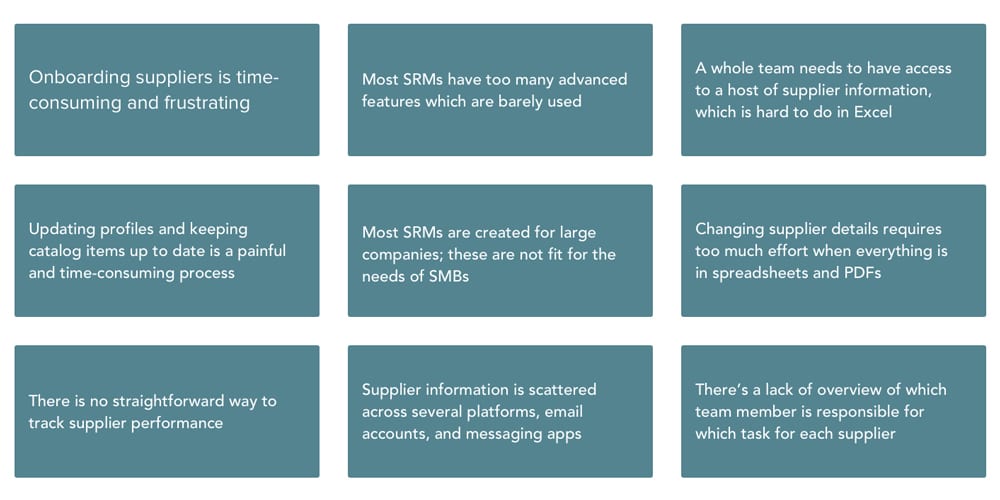 The biggest pain points we uncovered

Based on these interviews I also created a persona, to get a shared understanding of who we were designing for. This also helped with recruiting participants for testing. The research pointed us to the fact that we were designing for a narrow niche — this helped us focus on their specific needs instead of aiming wide.
Converging to focus
Since the research showed that managers spend most of their time performing four main tasks, we've made the call to build the MVP around them:
Onboarding suppliers and editing their information
Creating, assigning, and managing tasks
Capturing and tracking supplier performance
Exporting and sharing data with stakeholders
With the main goals of the product set, I started working on the information architecture.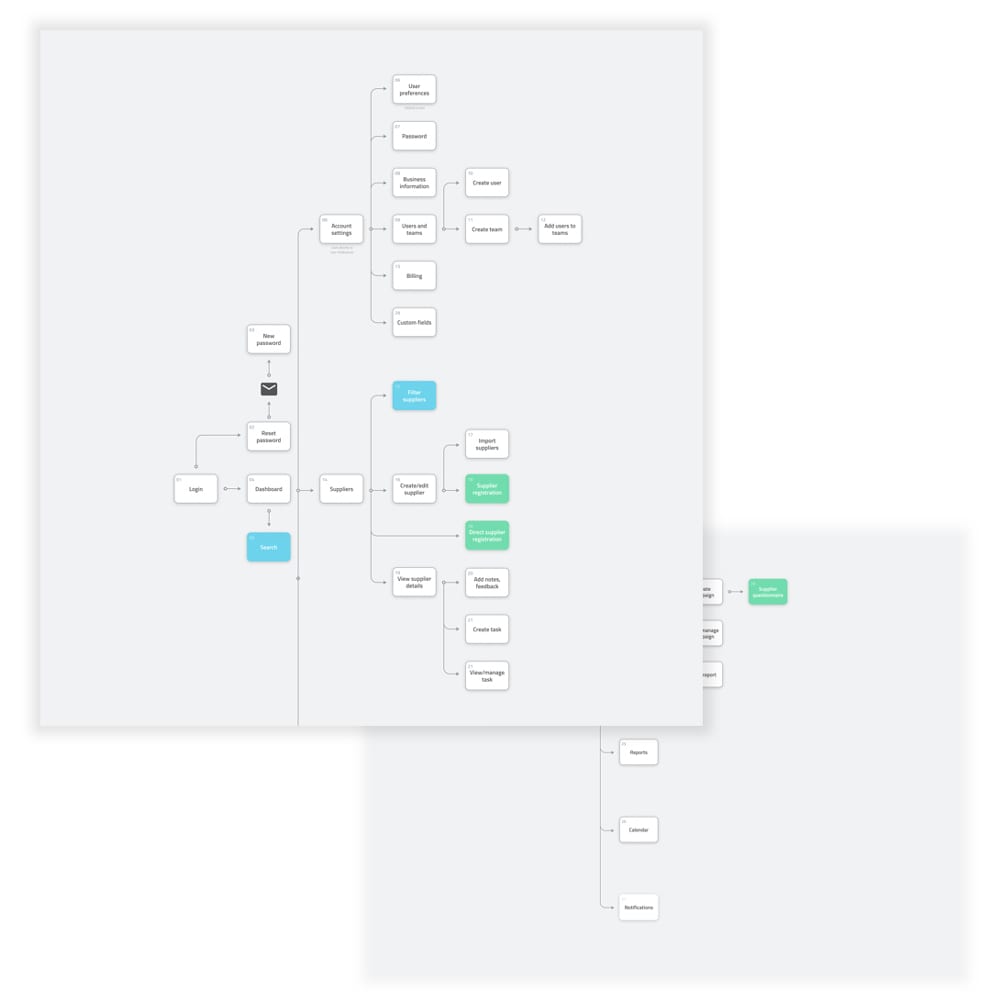 Many of the decisions below were backed by conversations we had during our interviews. First off, we had to give users a useful overview of their suppliers, to which we added basic customisation features. We've introduced tasks and notes, all assigned to users and attached to specific suppliers, so teams can see updates, progress, and what's left to do at a glance.
Adding a supplier in an SRM is usually a painstaking manual process. We've simplified the flow for the users who prefer the manual work, but we've also added 'batch import' features so multiple suppliers can be added from an Excel file.
To speed up most common workflows, we've implemented platform-wide search functionality, critical notifications, and 'quick add' capabilities. Last but not least, we've made creating and sending performance tracking campaigns a breeze, borrowing good practices from Google Forms and Mailchimp. We also removed the need for other tracking tools by making reporting part of the product.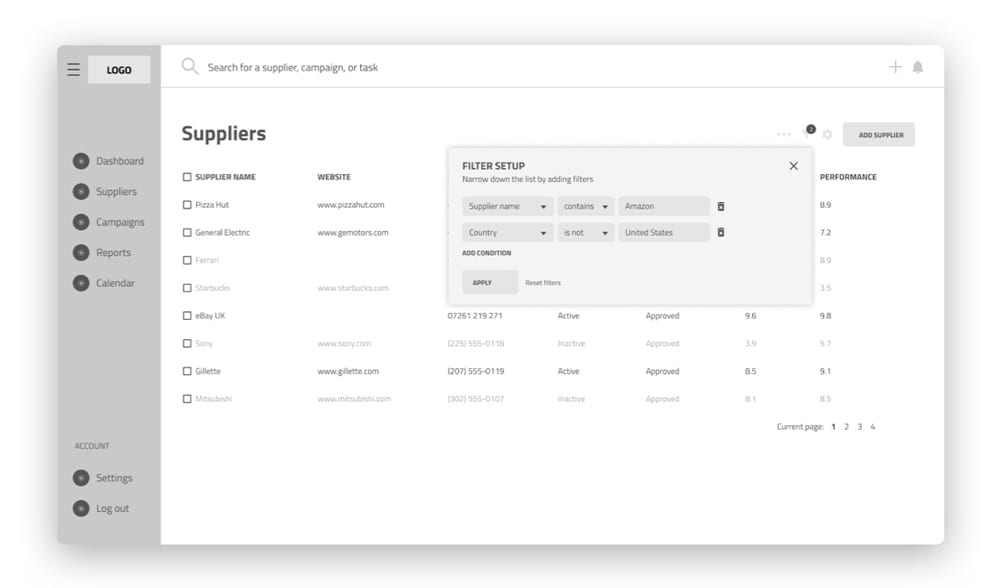 The list indicates the status of a supplier visually — whether approved, pending, or suspended.
Added an advanced filtering to allow users to drill down
Wireframe of the supplier list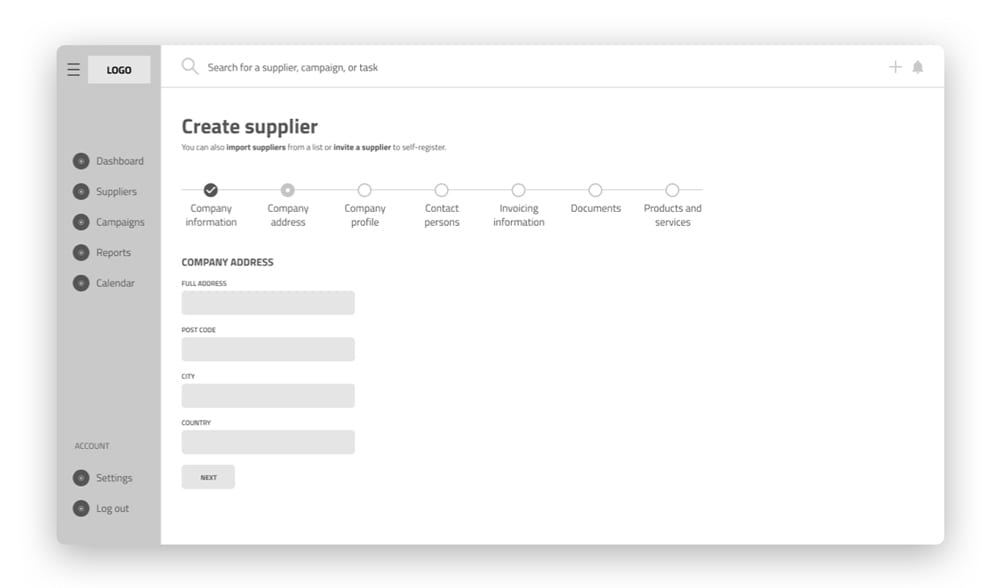 Adding suppliers manually is a tedious process, so we've split it into several steps, with progress being saved often.
Adding a supplier in a step-by-step flow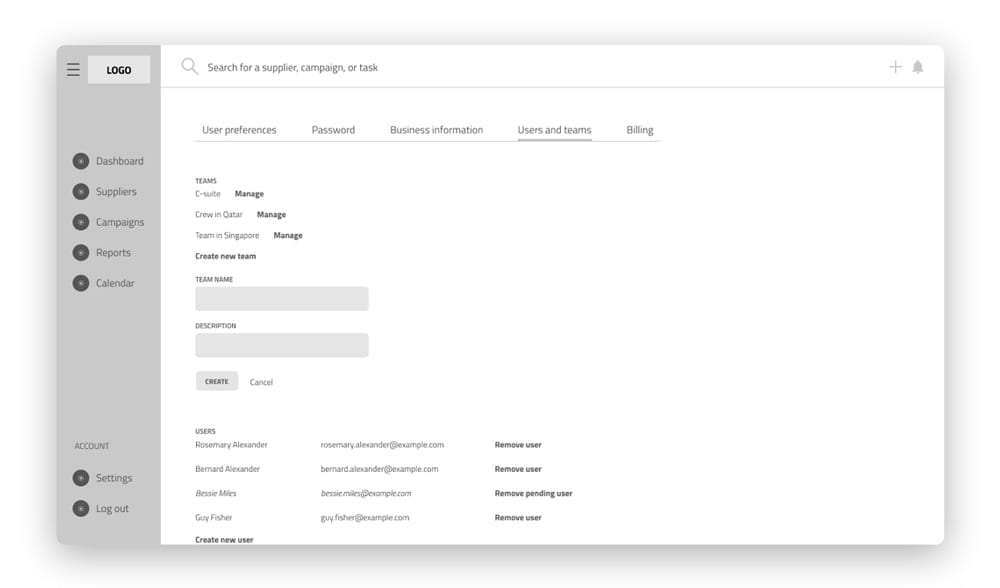 Creating teams in-line to speed up the process
Intuitive tabbed navigation to browse through multiple sections
Creating teams in the Settings screen

Easy to see an overview of the campaign progress
The app-wide search functionality helps speed up navigation
Wireframe of the report list

After building a prototype, I recruited participants working in the industry on Askable, and tested remotely using Zoom. The session confirmed we were on the right track, with barely any issues being raised. The simplicity of the system didn't leave a lot of space for confusion.
We didn't have all the bells and whistles of our competitors, but we've notived time and time again the excitement of our participants, because Waasla was simpler and allowed them to get the job done, rather than being full of features but clunky.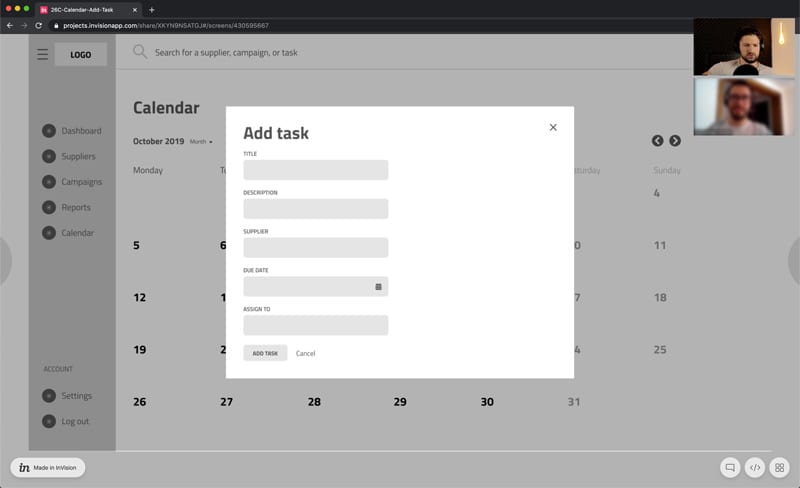 Testing the task functionality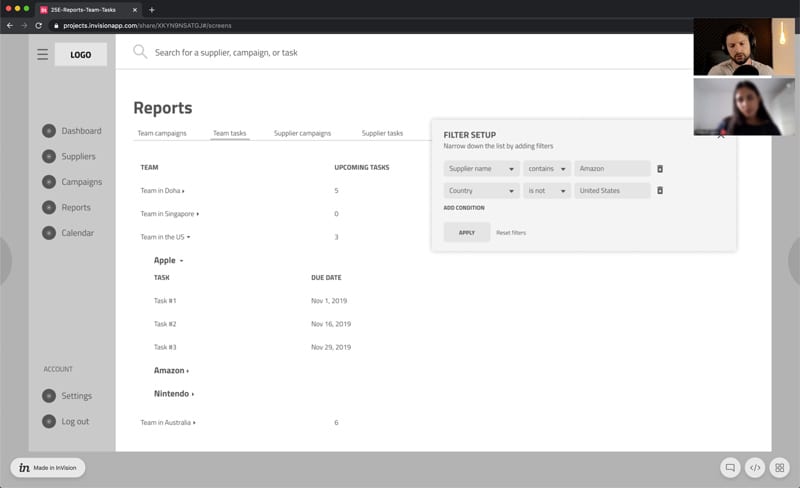 Testing reports and filtering

We knew that some customers will have hundreds of suppliers, tasks, and campaigns, so we saw the minimal design used as the best way to reduce the potential cognitive overload.
You'll notice the visual design is nothing out of the ordinary; that was a choice. We took inspiration from the likes of Stripe and Atlassian, which despite not following the latest trends in shadow-usage and gradients, are still thriving. Choosing a simple and conservative visual language built on solid design practices, instead of buying into shiny visual design that requires more investment over time, was the right choice for an enterprise tool.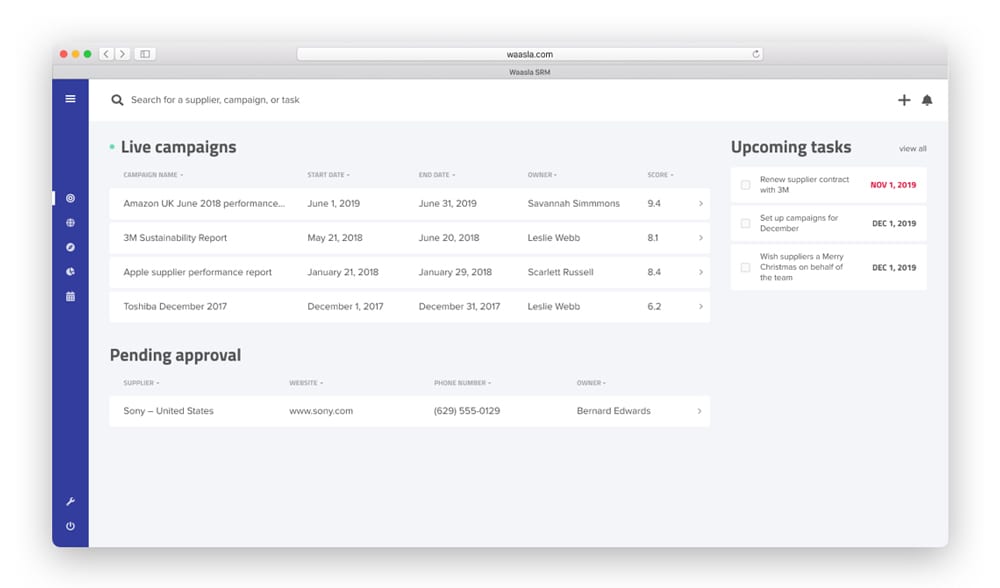 The dashboard shows users a quick overview of important information, such as campaigns running and suppliers waiting to be approved
The navigation can be minimised if users need more space
Being able to see tasks, especially the ones close to deadline, is important for managers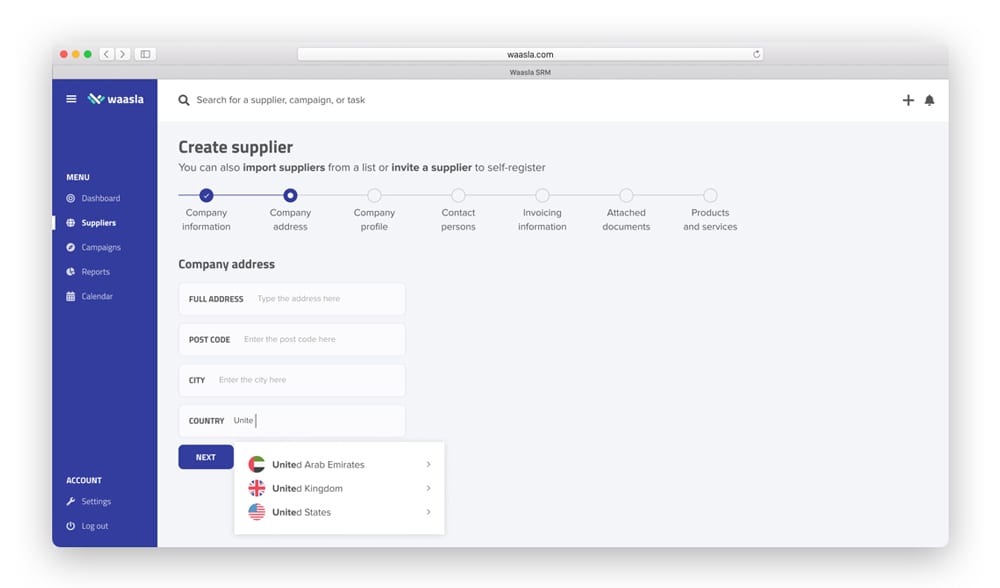 Easy to see an overview of the campaign progress
The app-wide search functionality helps speed up navigation
Step-by-step to creating a supplier manually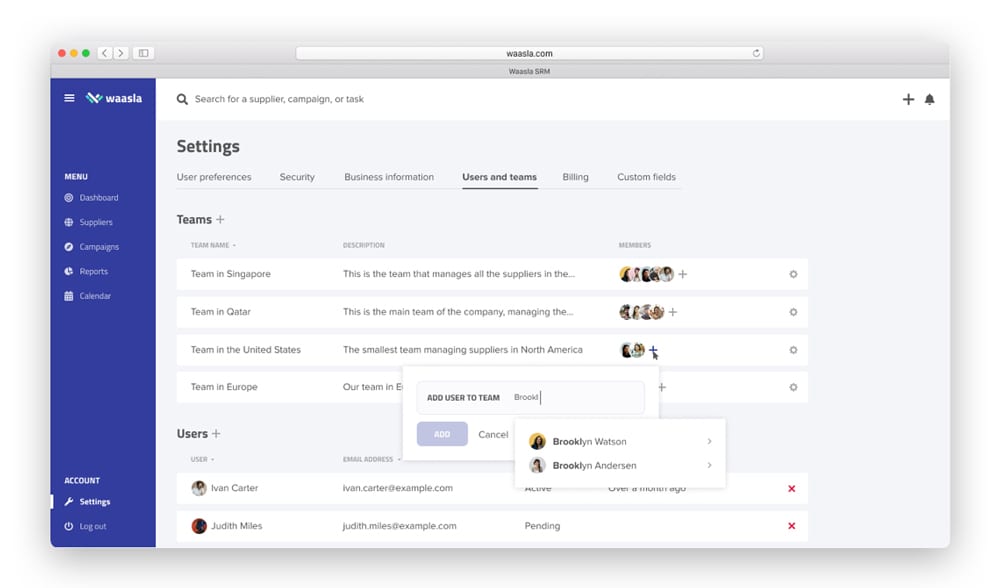 Adding employees to teams is as simple as searching for their name
One of the changes based on testing — creating new teams happens in a modal at the click of this icon, instead of in-line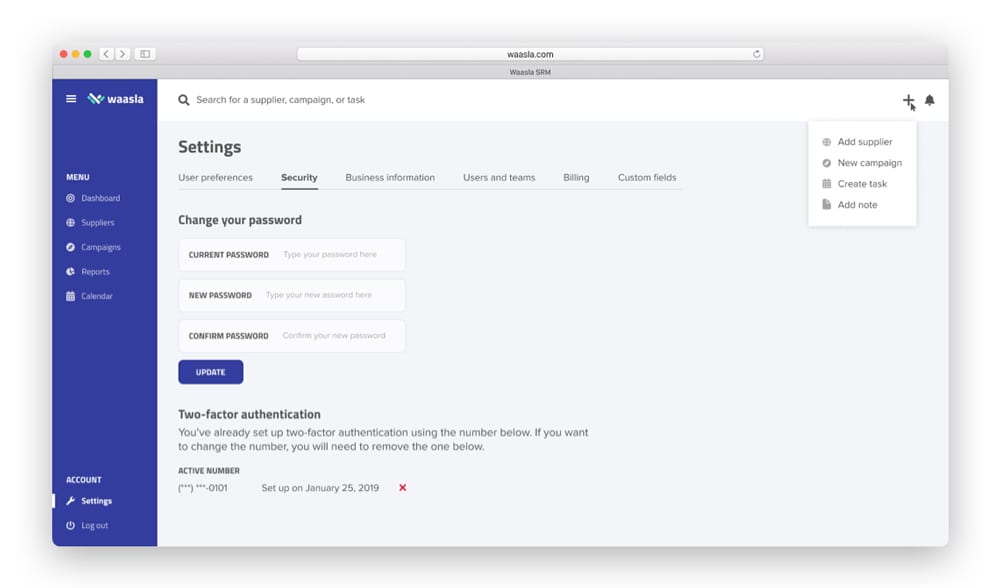 However deep a user is in the IA, the quick actions are always available to speed up common workflows
Quick add menu available throughout the whole app

Outcomes and lessons learned
There has been a positive response to the MVP, and the company is onboarding customers as we speak. Just like we've seen in testing, Waasla simplifies supplier management, saves time, and allows managers to keep on top of their teams.
This was one of the first time I've tested a product entirely remotely, and while it does come with extra challenges, it's not the last time I will do this. The logistics are much simpler, it's cheaper than a live session in a professional lab, and although you're not sitting in the same room as the participants, their facial expressions and reactions are just as clear.